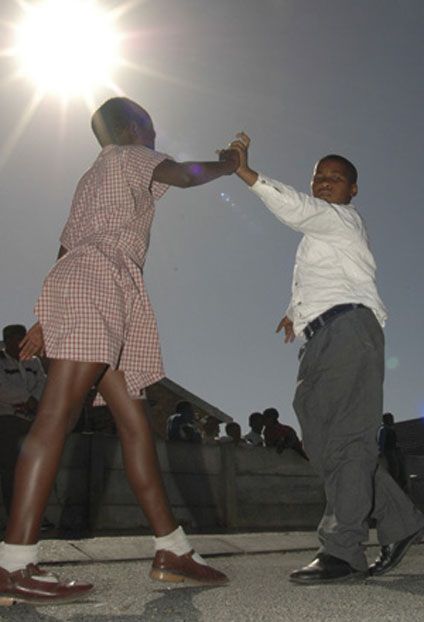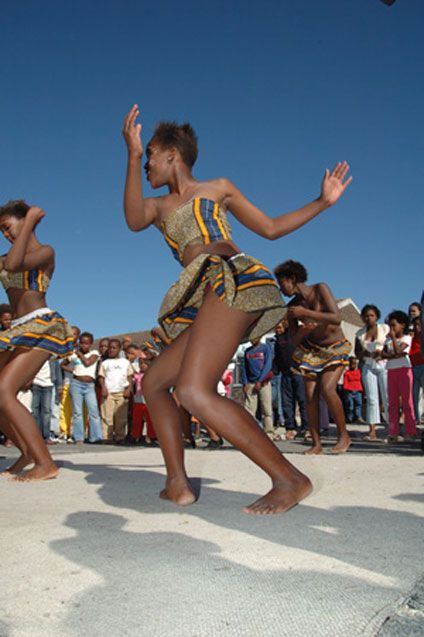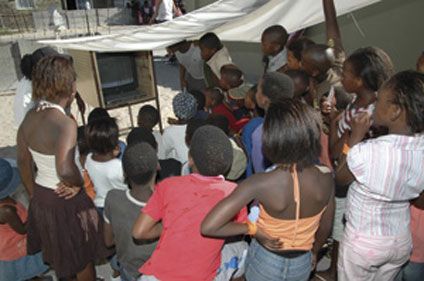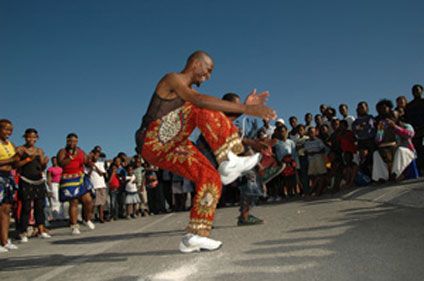 A mix of film, poetry, dance and music can be heard and seen during the Mobile TV Festival that takes place in Ntongana Crescent in New Crossroads. Dutch theatrical artist Fiona de Bell, one of the organizers of Cascoland, has turned some front gardens in this street into a vibrant and intimate meeting place. Here local musicians, dancers and poets interpret a selection of township and other African films.
For the whole of last week musicians, dancers and poets from New Crossroads were invited to come and show their improvisational talents in the front gardens of the residents of Ntongana Crescent. Mobile iron cupboards are each equipped with a television set and DVD player while Dutch theatrical artist Fiona de Bell directs the different acts from garden to garden to complement the films that are playing. Sometimes two acts are performing simultaneously with four films playing, creating a collage of activities. The audience is definitely thrilled by seeing their own local talent perform. Besides that they are clearly proud to see that their own artists from New Crossroads are professional performers in many different artistic forms. One of the highlights at the Mobile TV Festival is the performance of community theatre group Kalabash Ingayi. A group that was recently formed and is at the moment also staging a play at the Baxter Theater as part of a community theatre festival taking place in Cape Town at the moment. Some members of this group interpret a film with marimbas accompanied by a storyteller. This film, King Koda's Ring, is made by the first ever African director, Alesane Moustapha. The acoustic set of Fallion Kan, with renowned singer Mike Mayeki, plays for a small intimate crowd with their slow renditions of well-known South African lullabies.
Fiona de Bell is happy with the reactions of the audience. Even though she knows that her concept might be conceived as a little bit strange at first. This is due to the fact that the audience has the choice between different small venues very close to one another. Being treated however with their very own homegrown talents, the audience in New Crossroads embraced her concept readily and moved along from garden venue to venue, watching performers, and checking out a garden to see what movie is being screened.
Fiona de Bell knows what she is doing. While working for renowned Dutch theatrical group Warner & Consorten she learnt all the tricks in the theatrical book. Fiona says: ´The whole idea behind the Mobile TV Festival is to bring different artistic disciplines together in a mix. With Warner & Consorten we used to call that guerilla theatre. At first it looks like we are creating a chaotic situation, but it is all thought out beforehand. It makes people participate, so that they become part of the whole experience. What I do here in New Crossroads is related to that concept. I want to create a form of total theatre, whereby the audience is mobile and floating from performance to performance and get sucked into this ongoing theatrical process. In the meantime the films are screened on televisions in a cozy setting while the mama of the house is looking on. To me it was very special that the people of Ntongana Crescent opened their private space to become public space. In my country that would not be so obvious. It says something about African hospitality.´ Fiona has been in Africa before. She was even born in Kenya. Since ten years back she has worked in Africa with Warner & Consorten and has experienced South Africa while working with the South African based Odd Enjinears group. Cascoland in New Crossroads has been a real challenge for her. She says: ´It has taken us more then a year to organize it all. We are delighted that such a concept can be materialized and as a result New Crossroads has become very dear to us with all its bizar dynamics.´ In the last two months people have often asked her how New Crossroads benefits out of this energetic cultural explosion in their midst. Fiona realizes that an outsider cannot really change things. That it is the people of New Crossroads who have to do that by themselves. She says: ´In that process we just come and give inspiration by working together with people from here and look at possibilities from an artistic perspective. In the world of today it is important that if you want to develop one also needs to get the chance to show their talents. people need a stage. I hope that the people of New Crossroads have benefited from the exposure that Cascoland, as a stage, has given them. We are not an NGO, so we are not development workers. As a collective of artists we are interested to communicate through our art. All we can hope for is that in the end Cascoland has been experienced as a stimulating force and that some people will explore new possibilities to grow and prosper.´
Fiona de Bell