Cascoland Durban 2008
cato manor/ Guerrilla Gardening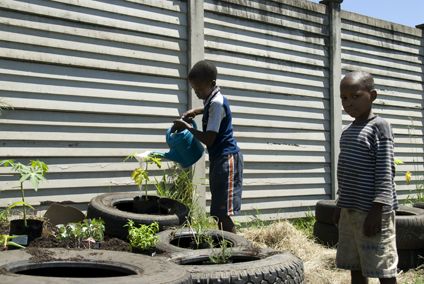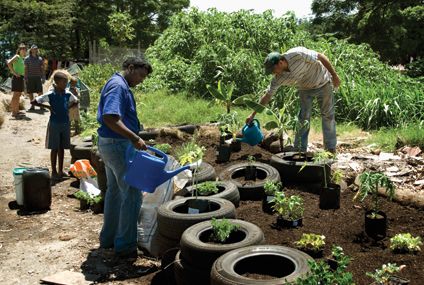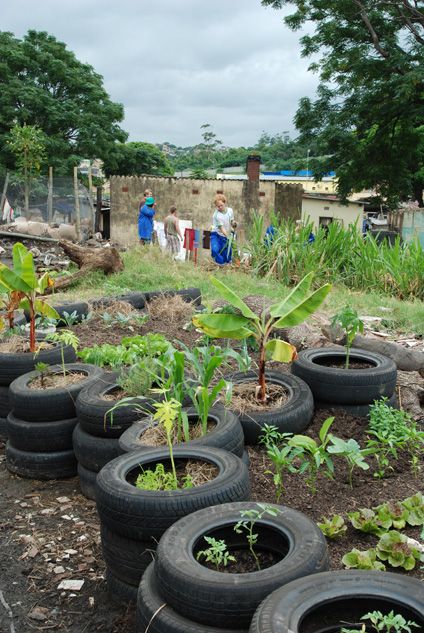 David Haigh
Daniel Sheldon
Clive Greenstone
One of the three major Cascoland Durban 2008 locations, 'little' Cato Manor, has seen the first clear cut intervention. Durban based environmentalist artist Clive Greenstone's Guerrilla Gardening project. Clive turned a smelly rubbish dump, which was situated closely to the 'little' Cato Manor settlement into a garden and two compost heaps. Part of his intervention is to explain the people how to use it.
In his own words about the Guerrilla Gardening project: 'The idea behind the vegetable garden was to create a vegetable patch using no power tools or any other form of materials that would require intensive construction. Since the initiative was designed specifically for the children of 'Little' Cato Manor, removing technological constraints offers easier maintenance and will hopefully see the project into fruition. The construction of the tyre garden was done in such a way as to allow children to develop a similar approach elsewhere.'
The word guerrilla is a term that is used to indicate the way in which the intervention takes place. Most times artist interventions are done with official clearing, certainly when it comes to intervening in public space. Guerrilla interventions however are usually done without specific permission. It is important to Cascoland to do this responsibly and that it is in the interest of the community.

Clive Greenstone's Guerrilla Gardening project is a good example of that. He explored 'little' Cato Manor, noticed its needs and came up with a quick fix: creating a garden that can be used by the people of this small settlement. He didn't work on private property but on land that is public. He just came in and did his thing.

Cascoland artistic director Fiona de Bell has a lot of experience with these guerrilla tactics. As a theatrical artist in the past with the experimental Dutch theater group Warner & Consorten she often intervened in public space using the guerilla technique. Since Cascoland eNewXds 2006 she has been experimenting with this principle in public art.

On the fringes of Clive Greenstone's garden Cape Town based artist David Haigh did impromptu decoration sessions with children of Cato Manor. He often works in public space. He reasons that members of the public are discouraged to use public space, as if it doesn't belong to them.

Clive and David have also done an intervention in the Durban Berea neighborhood. They drove with the 'bakkie' into the area and started softening the space in this hard and industrial concrete area by bringing plants to spots that they thought needed some life. Car tyres were used to put the plants in. On the spot the artists did their gardening and decorated the tyres.