Cascoland Durban 2008
warwick/ Music Playground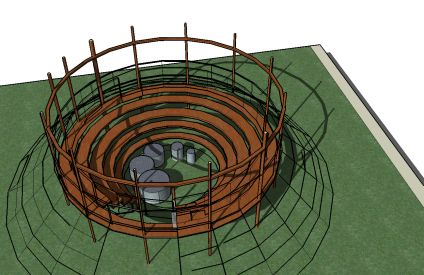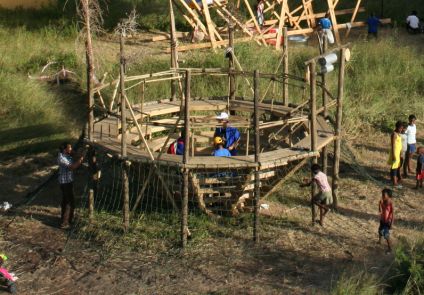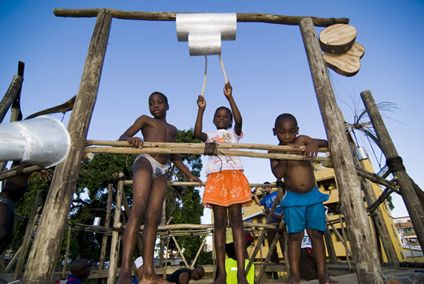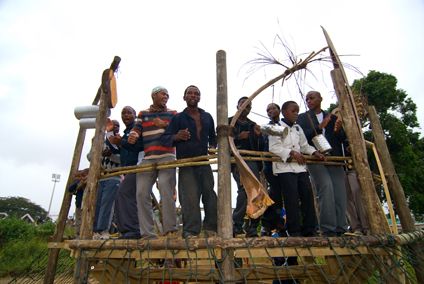 David Haigh
Xavier Clarisse
Daniel Sheldon
Our project is to create a musical playground for children that is also an amphitheatre to encourage both play and performance.
In the centre of the circular wooden structure are large steel drums that also double as a stage. Around the top and possibly beneath will be hanging instruments for experimentation with sound. To add an element of fun the playground is surrounded by a climbing net so can be accessed/invaded from all sides.
Last week we were hard at work building the structure to Xavier's design. It is now ready in kit form to be assembled on site and we are turning our attention to creating the musical instruments themselves. Dan and David in collaboration with other musicians have come up with some great ideas that are waiting to be brought to life! Once the playground is erected David will take the lead on decorating it.
During the festival the playgroung will be located at the Warwick Triangle site .We will organise musical workshops and performances to introduce the space but mostly we want to see children using it to do what they do best - play!
Update 6 March:
The structure is up we are now working on the instruments. Durban's well known experimental percussionist Richard Ellis has given us some inspiration and the idea has now shifted to making the instruments out of natural materials. Yesterday we stabilised the structure and today we will be puting the climbing net up...