Proyecto Desierto 2008
Barranquilla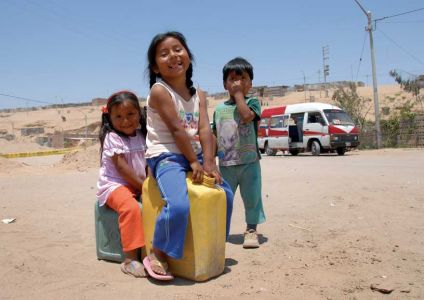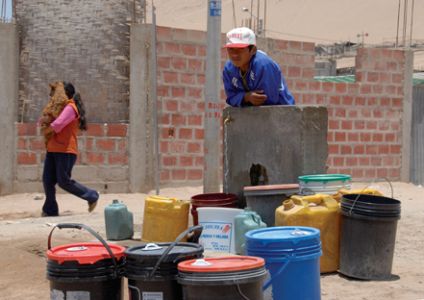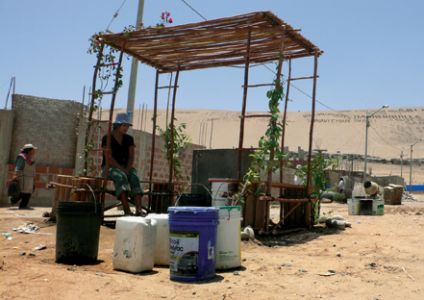 Fiona de Bell
Bart Majoor
The population of Barranquilla is made up mainly of migrants from the high Andes who come to Tacna to build a new life under quite hardy circumstances. By working on location here for two weeks all kinds of interactions between the project participants and members of the community led to participation of the population as well. This first fase of the project was a research into how to integrate the different approaches of DeçiertoPicante, Theatre Embassy and the Cascoland artists and to come to a combined work.
Experiences gained from this first fase are going to feed into the progress of the project.
The first weeks of the project Tacna was under siege. The issue was 'water'. What started as a strike of the miners, the 'minero's', became an overall protest against the authorities and mining companies who use the sparse water in Tacna to wash their minerals, heavily polluting the water and environment in the process. Protest rallies were held daily, the access roads to the city had been barricaded with burning tires and rubble and government buildings and shops were demolished and looted. After 4 people got killed the government declared a state of emergency and people are not allowed to assemble.
A difficult situation for an artistic project focused in and on use of public space.

"The first phase of the project was situated in the migrant district Barranquilla: one of the seats of fire during the riots that occurred before the state of emergency was declared. Nevertheless, we consciously chose not to close up the project. As a result, there was much interaction between the local population and our project. That confirmed our idea that we could not only respond to the current events, but also significantly intervene in the public space in a way that could touch the inhabitants of Tacna"