Cascoland Durban 2008
location/ Cato Manor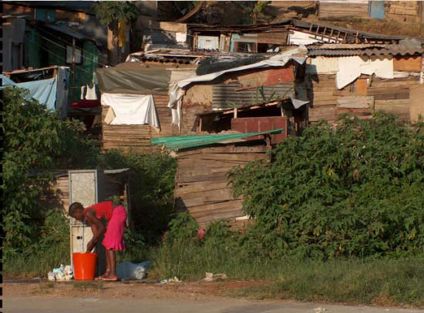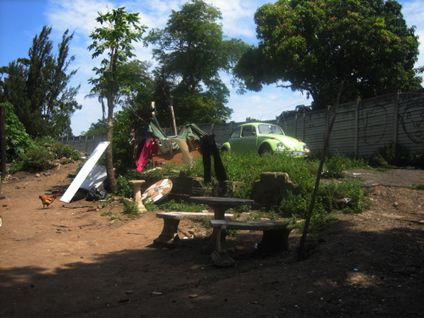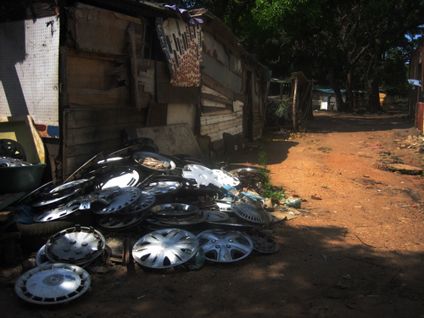 Fiona de Bell
Greg Streak
David Haigh
Daniel Sheldon
Doung Anwar Jahangeer
Bronwyn Lace
Clive Greenstone
On the second leg of Doung Jahangeer's city walk the Cascolanders visited what Doung coined 'little' Cato Manor. It is a small settlement of shacks which houses about sixty families. Walking through the settlement with their representative, one gets a good idea of the harsh circumstances under which people here have to live.
Everywhere there is rubbish lying around. Close to the road side there are some rickety rack toilets. These are not even 'long drop' toilets. What is disturbing is that the only water pump for these people is just a few meters away from the toilets. A definite health hazard. The small river passing by the camp is the cause for frequent malaria cases. At least health care is freely accessible in nearby Cato Manor. Facilities like schools, however requires a few kilometers of walking.
Besides their pressing problems the view of this camp also gives the Cascolanders an insight into the resolve and inventiveness of its habitants. From an architectural point of view the structures in this squatter camp look quite solid. Many houses are made by using left over bricks found in the direct surrounding. Supported by long pieces of wood the stones are put one on top of the other. When the stone walls are ready wood or metal plates are put against it. Small windows appear and doors are implanted. Even though it all looks a bit shabby, looking inside one realizes that these people put a lot of effort into making their house look like an average and decent household.
There is also a sense of community.Zazi Ngombo says that neighbors take care of his property when he is not around. And when things don't work out security wise there are still the community meetings. Rather then calling the police to come into this community to solve matters they rather solve problems themselves. In the middle of the camp there is even an open area where people can meet. It is clear that since they arrived here seven years ago a sense of community has definitely developed. With the promise of re housing - five families have already moved out – at least the future looks less grim.
But moving from little Cato Manor also has its disadvantages. At the moment they pay no rent. In their new housing they definitely will. The thought clearly troubles Zazi. Even though he is a mechanic by profession, getting a job is not very easy. Usually he works just for a few days and then there is a gap again. These jobs are usually labor intensive like digging trenches.
Reasonably subdued by the realities of poverty the Cascolanders end their excursion. Not a lot of words are said when saying goodbye. The community members of Little Cato Manor are also looking on wearily at the sight of so many white people in their little village. A small Cascoland intervention will certainly break the ice between these two poles.